You've come to the correct spot if you're looking for a comparison of Sun Joe vs Ryobi pressure washers. These brands are competitors who have released several suitable pressure washers for cleaning jobs around the house.
It's always difficult for the editor to pick a victor between two reputable manufacturers, mainly when both specialize in high-quality pressure washer production.
We'll look at the Sun Joe vs Ryobi pressure washer in this tutorial, along with the best pressure of the two. After reading this article, you'll understand what each of these electric pressure washers has to offer and which one is best for you.
Overview About Sun Joe Vs Ryobi Pressure Washer
Sun Joe Pressure Washer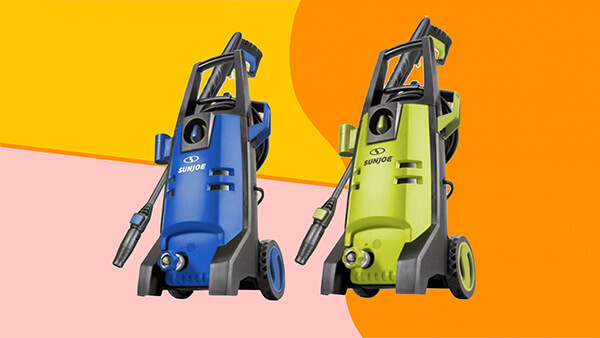 Sun Joe is a household maintenance equipment company that makes pressure washers, lawnmowers, electric tillers, log splitters, leaf blowers, and other products. This brand is one of the most well-known makers of home pressure washers.
Sun Joe pressure washers are known for their excellent quality, durability, as well as their adaptability, and effectiveness. Here are two of the best Sun Joe pressure washer:
Sun Joe SPX3500 2300 Brushless Induction Electric Pressure Washer

Sun Joe SPX3000 2030 Electric High Pressure Washer
Ryobi Pressure Washer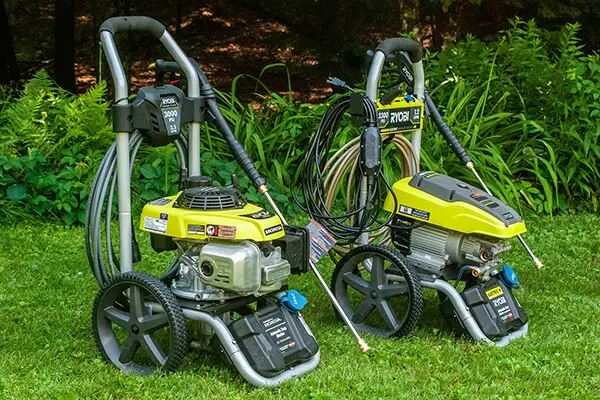 Ryobi is a Tectonic Industries-licensed manufacturer of home products like pressure washers, chainsaws, trimmers, portable generators, and other items. The firm was established in 1943 in Japan and has since become one of the most well-known names in the power washing industry.
Ryobi makes both electric and gas pressure washers with ergonomic designs and safety features that set them apart. The following are the best Ryobi pressure washers:
Ryobi RY141900 Electric Pressure Washer

RYOBI 2,300 PSI 1.2 GPM High Performance Electric Pressure Washer Renewed
4 Best Sun Joe Vs Ryobi Electric Pressure Washer
1. Sun Joe SPX3500 Brushless Induction Electric Pressure Washer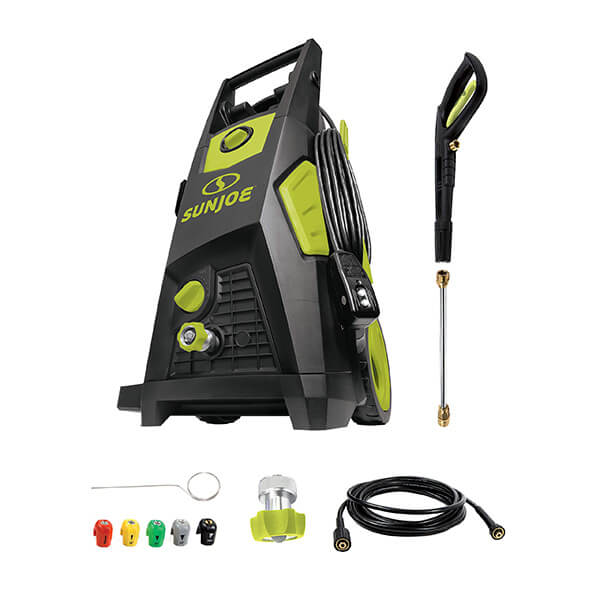 This beauty is a force to be reckoned with. Once you have it in your hands, you will be able to blast away even the most brutal filth and dirt stains in no time. The device has a whopping 2300 PSI of grime-busting strength and a 1.48 GPM flow rate to wash away any leftover residue. 
There's also the unit's incredible amount of adaptability. The SFX3500 may be used with a variety of different attachments. In addition, a cleaning wand, a specific adaptor for garden hoses, and various additional features are included. 
Finally, the unit was created to run quicker, more effectively, and, most importantly, silently than any other competitive model on the market. A specifically developed 13-AMP/2,000 brushless induction motor is included in the SPX3500. This new motor is quieter and more accurate than any Sun Joe engine before it. The SFX3500 is one of the most incredible models yet, thanks to its revolutionary features.
Pros
A 35-foot cable, a cable GFCI extender for further mobility, and simple sliding wheels for maximum movement

One of the most basic SunJoe SPX 3500 models currently available

Have a big detergent tank onboard
Cons
It may not be strong enough to get rid of some stains

The connectors are made of plastic
2. Sun Joe SPX3000 Electric High Pressure Washer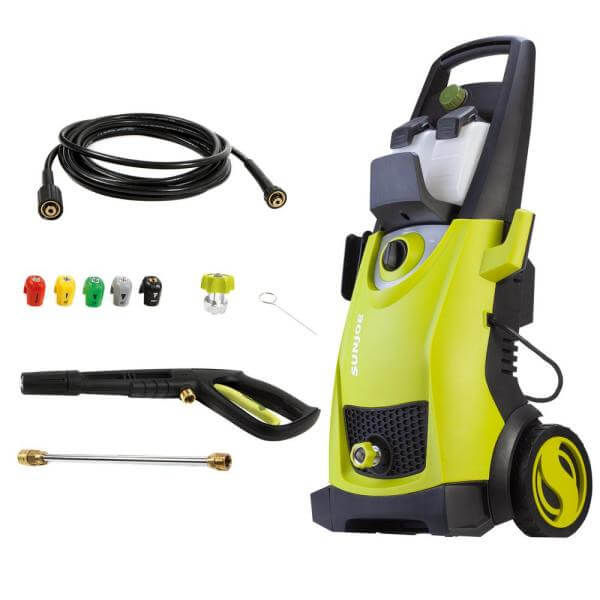 For the price, the Sun Joe Pressure Joe is a powerful machine. When PSI and GPM are combined, the AR Blue Clean AR383 has 25% greater cleaning power than the #1 rated AR Blue Clean AR383.
In addition, instead of plastic, you receive a stainless/brass pressure wand with 5 fast attach spray nozzles.
Have you ever had difficulty with mobility with earlier Sun Joe models? If that's the case, you should know that this is no longer an issue. This new model comes with a set of convenient new easy-glide wheels for 360-degree mobility. So finally, you'll be able to reach even the most previously unreachable spots and scrub them down to a squeaky clean shine. The secret to greatness is this new mobility.
Pros
Cost-effectiveness

Able to clean houses, walls, automobiles, boats, furniture, driveways, equipment, and more 

A water-saving system with automatic shutoff

5 spray nozzles for various spray types

35-foot long cable
Cons
Short wand 

Difficult to hang the power wire.

Only a 2-year warranty is available.
3. Ryobi RY141900 Electric Pressure Washer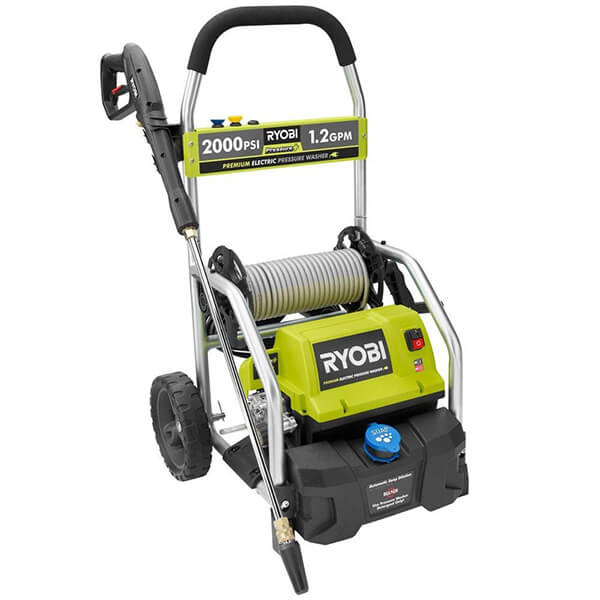 The Ryobi RY141900 is designated as a mid-range duty pressure washer and has handled some of the sickest streaks ideally utilized on wood, stone, glass, grass, and garden furniture across every problem and issue presented about pressure washers. 
This pressure washer can also clean moss, sludge, mud and dust, grills, and a variety of other filthy items. This device is capable of assisting you with any work and home planning.
The Ryobi RY141900 power washer is powered by a 13-amp engine that delivers 2400 CU and a maximum water flow rate of 1.2 GPM at 2000 PSI. A lightweight aluminum axial pump is included with this universal engine.
Pros
A 1-gallon soap tank onboard

An automated 20:1 ratio dilution mechanism

Onboard hose reel that extends the hose's life and saves storage space

A trigger lock device to prevent unintentional activation

Accessories can be stored aboard
Cons
It doesn't work well on difficult-to-reach tough stains

There are no pressure control options available
4. RYOBI 2,300 PSI 1.2 GPM High Performance Electric Pressure Washer Renewed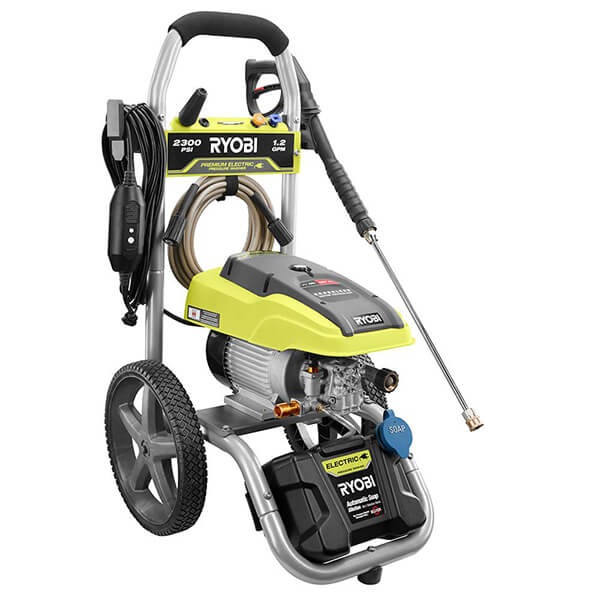 This Ryobi 2,300 PSI Pressure Washer has Brushless Motor Technology to handle even the most demanding tasks. It features a strong 13 amp Electric Motor and Pressure Technology, and the pressure is appropriate for cleaning parking lots, floors, windows, and outdoor furniture, with 2,300 PSI force. 
It has specifically designed, high-quality wheels with brushless induction motors that should last a very long time. A regular and extra Turbo Nozzle is also included in the set, which delivers 50% more cleaning power.
Because of its design, the Ryobi 2300 PSI RY142300 can move quickly. This power washer weighs 49 pounds and comes with a robustly made and stable steel tube structure. The frame is equipped with two 12-inch wheels for easy mobility. In addition, the cushioned grip on the built-in frame handle makes using the machine more pleasant.
Pros
The kit includes a turbo nozzle that aids in the removal of tough stains

Accessories can be stored aboard

The hose is non-abrasive

The trigger has a safety-lock mechanism

A GFCI power cable protects the device
Cons
There is no comprehensive stop system included

The highest water flow rate is modest
3 Main Differences Between Sun Joe Vs Ryobi Pressure Washer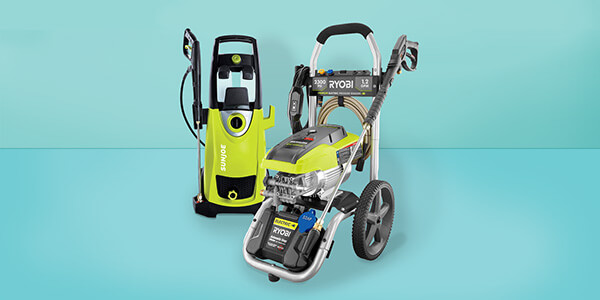 Cost
The prices are pretty disparate. However, thanks to its superior cleaning performance and low price, the Sun Joe pressure washer is the clear winner in this area. The price is reasonable, and it assures that you are not squandering your money on a pressure washer that does not work well for the price.
The expenses of a Ryobi pressure washer are greater than those of a Sun Joe pressure washer, but there is no comparison in terms of use and efficiency. As a result, you may pay a little more money to receive the advantages of efficient, adequate cleanup power as well as the capacity to transport the pressure washer.
Water Pressure
At any given time, the Sun Joe can create up to 2030 PSI of water pressure. This helps you to do a large number of tasks in a short amount of time. Most messed can be quickly cleaned up with the best PSI
With a maximum pressure of 2000 PSI, this pressure washer doesn't have quite the same punch as the Sun Joe, so it's worth considering. Regardless, there is enough pressure to do a variety of diverse tasks.
Additional Features
According to consumers, Sun Joe's most helpful feature is that it comes with two detergent tanks. As a result, you have the option of selecting the type of detergent to use, allowing you to determine which is ideal for the stain you're eliminating.
It's worth noting that the Ryobi's water flow rate is just 1.2 gallons per minute compared to the Sun Joe's. This is much less than the Sun Joe's 1.76 gallons per minute.
Check out this comparison collection to know the differences between various pressure washer brands, apart from Ryobi vs Sun Joe:
Conclusion
It is usually challenging for everyone to pick between the two greatest brands; both Sun Joe vs Ryobi pressure washer are excellent in their own right. However, the Ryobi pressure washer is superior in certain areas, while the Sun Joe pressure washer is superior in others.
People enjoy this Ryobi machine because of its design, convenience of use, and capacity to clean just about everything. Sun Joe, on the other hand, tends to rank higher on the list of pressure washers to purchase since it has many more features and benefits than other pressure washers.
Related Post