If you're a homeowner, you'll have to frequently deal with dried bird droppings, filth, sludge, dirt, and mold. To get the work done the first time correctly, you'll need a good collection of outdoor cleaning equipment.
This is where a solid and long-lasting pressure washer comes into play. In fact, with the appropriate equipment, a mundane task may be transformed into a playful outdoor pastime.
Choosing the suitable pressure washer for your unique outdoor demands, on the other hand, might be a difficult task. This is because there are so many different things to consider.
So, between Ryobi Vs Greenworks pressure washers, which one is the best? First, let's look at a few models from two of the most well-known manufacturers, Ryobi and Greenworks.
Overview About Ryobi Vs Greenworks Pressure Washer
Ryobi Pressure Washer
In their Ryobi pressure cleaning collection, the firm has something for everyone. It offers everything, from little electric hand-held pressure washers to high-powered fuel guzzlers.
The brand also places a high value on spare parts availability. Furthermore, they provide prompt and effective service for all after-sales concerns.
Suppose you're having trouble deciding which pressure washer is suitable for you. In that case, the friendly folks at Ryobi will tell you that electric pressure washers are great for cleaning porches and vehicles, which is entirely accurate when it comes to electric versions.
On the other hand, a gasoline-powered pressure washer would be ideal for tasks such as washing sidings, paint peeling, concrete roads, and cleaning rocky and marble surfaces.
Greenworks Pressure Washer
Greenworks is a well-known name in the pressure washer industry. It was established in 2007 and has been getting more prominent over the previous few years.
Greenworks' specialists are masters in determining the target market and designing solutions to meet their needs. When they initially released the pressure washer for outdoor use at an affordable price in 2010, they saw a significant increase in sales.
To put it another way, Greenworks have distinct identifying patterns. Greenworks is committed to producing pressure washers with the correct amount of power while being lightweight. The design pressure washers are lightweight and have low noise. Pressure washers are very affordable.
4 Best Ryobi Vs Greenworks Electric Pressure Washer
Ryobi RY141900 2,000 PSI Electric Pressure Washer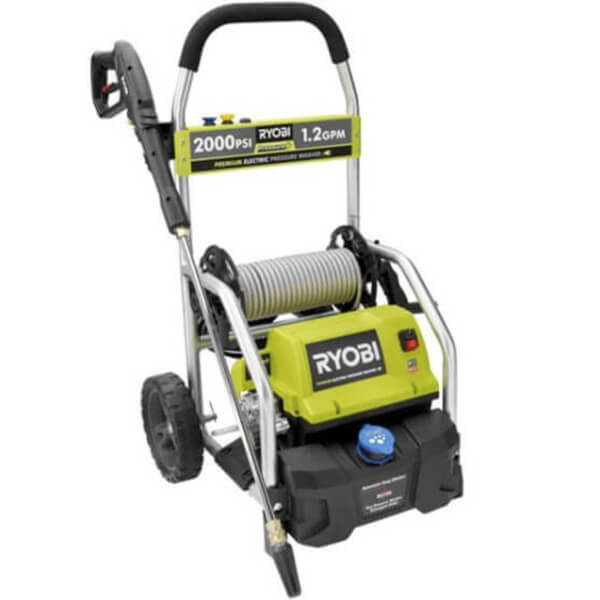 The electric motor in this Ryobi model is robust, rated at 13 amps. According to the user handbook, the motor and pump can produce up to 2,000 PSI of power at 1.2 gallons per minute, which is considered a mid to heavy-duty pressure washing. Thus, this device has a total cleaning power of 2400.
Ryobi sticks out from the crowd with its essential yet slightly industrial elements and modern hue. Because this type has two wheels, it's a very mobile pressure washer. It is barely 32 pounds in weight.
This machine comes with three extra nozzles: a 15-degree, Soap and Turbo nozzle that provides a strong jet of pressured water. In combination with the soap tank, the soap quick-connect nozzle had a significant influence on filthy windows and automobiles.
With a 25-foot high-pressure, non-marring hose that conveniently packs into the hose reel (when not in use) and a 35-foot long power cable, it was getting about the yard with this pressure washer is a breeze.
Pros
Very portable and easy to use

The casing is durable and keeps the electric motor safe

Excellent price-to-power ratio
Cons 
Unable to remove old and tenacious stains that are difficult to reach
RYOBI 2300 PSI High-Performance Electric Pressure Washer Renewed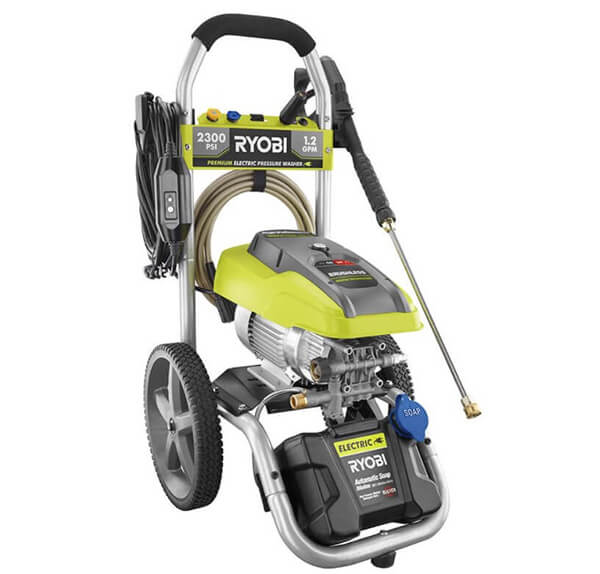 This Ryobi 2,300 PSI Pressure Washer has Brushless Motor Technology to handle even the most challenging tasks. It features a robust 13 amp Electric Motor and Pressure Technology, and the pressure is appropriate for cleaning parking lots, floors, windows, and outdoor furniture, with 2,300 PSI force. 
It has specifically designed, high-quality wheels with brushless induction motors that should last a very long time. A regular and extra Turbo Nozzle is also included in the set, which delivers 50% more cleaning power.
The Ryobi 2300 PSI Brushless Pressure Washer is a simple device in general. The hose connections and the controls are intuitive and straightforward to use, and there's practically little maintenance to worry about. Even the assembling and transportation are simple.
Pros
25-foot non-marring hose

A professional metal spray wand that can be readily replaced with various nozzles

Provides convenient accessory storage
Cons
Have a wide range of pricing ranges on the market

Due to the recirculating water within, it may quickly grow hot
Greenworks Pro Brushless Electric Pressure Washer GW2300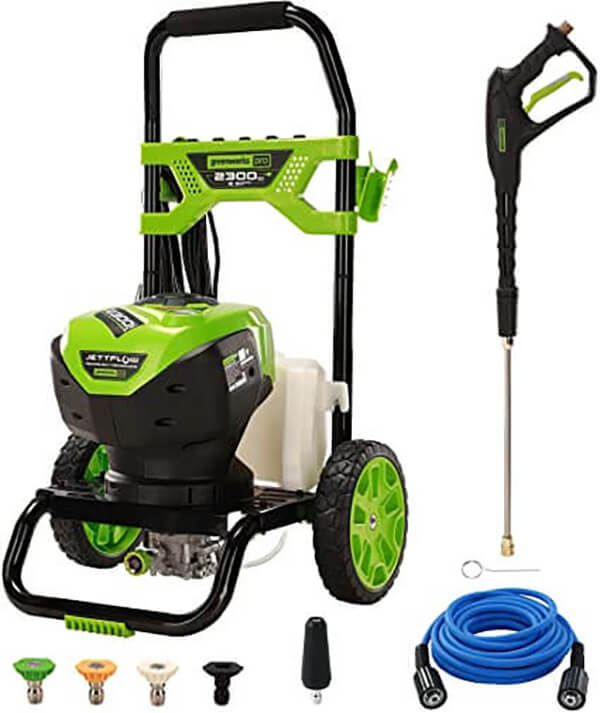 The brushless motor of the GPW2300 produces 2.3 gallons per minute at 2300 PSI. These figures are pretty comparable to Ryobi's brushless model from a purely theoretical standpoint.
Like nearly every other pressure washer on the market, this pressure washer comes with a choice of nozzle tips for pressure washing. All of the tips are provided. In addition, the GWP2300 also includes a rotating turbo nozzle.
The GPW2300 Greenworks Pro Pressure Washer isn't designed for heavy-duty, 24/7 professional use. However, it's a good option for homes with sporadic tasks throughout the year and doesn't want the inconvenience, noise, or pollution.
Pros
Electric motors are quiet, emit no pollutants, and require considerably less maintenance than gas motors

Compared to brushed motors, brushless motors have a longer lifespan and require less maintenance

There are a lot of nozzles to choose from

For its class, it has a reasonable flow rate
Cons
Electric pressure washers lack the power of gas pressure washers
Greenworks 2000 PSI Corded Electric Pressure Washer GPW2001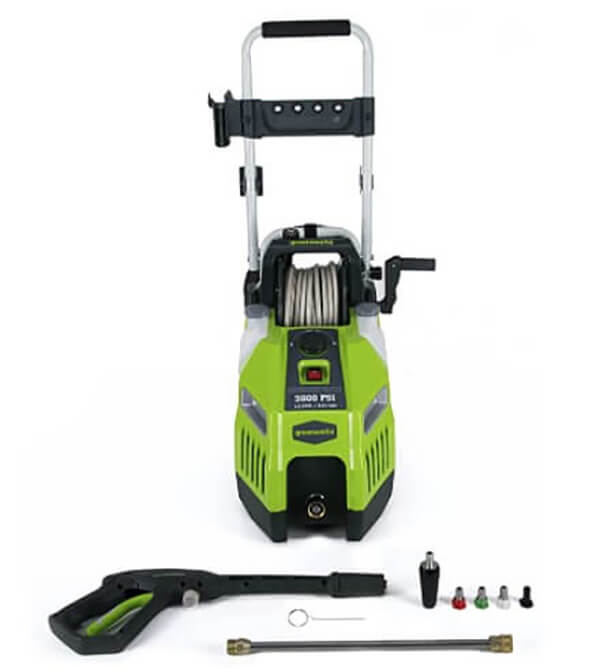 It has a 13-amp motor that generates up to 2000 PSI of pressure at a 1.2 GPM water flow rate, making cleaning and stain removal a breeze.
Another important aspect of this model's attractiveness is its reach and adaptability. The device has a 25-foot high-pressure hose that allows you to customize the amount of pressure you apply to each surface. The new Greenworks 2000 PSI model also comes with a 35-foot power cord, allowing you to reach harder-to-reach locations.
The new Greenworks 2000 PSI model comes with many bundled accessories, which potential purchasers should note. When you buy this exciting new model, you'll get a pair of specially designed soap tanks integrated right into the unit. If you require a wide variety of intensity and range, you will undoubtedly find it here. You may pick from 0, 25, or 40-degree nozzle tips to give you the most flexibility.
Pros
A compact, fully portable design with wheels

Up to 35 ft. of cable and 25 ft. of high-pressure hose

The motor is vented to prevent overheating
Cons
Not a very high water output

The plastic reel may damage the hose
Ryobi Vs Greenworks Pressure Washer: What is the difference?
Attachments 
Greenworks' options are limited in this respect since they don't have much in the way of extras and attachments to offer other than the basic soap applicator. It's not a deal-breaker because universal accessories are available, but compatibility may be an issue.
In this regard, between Greenworks vs Ryobi electric pressure washer, Ryobi has Greenworks beaten. However, you may outfit your pressure washer with accessories that are guaranteed compatible and will perform well with your washer, such as power control dials, foam blasters, and surface cleaners, among other attachments.
Gas/electric options
The whole Greenworks pressure washer series is electric. Because they concentrate on a single sort of power technology, this implies maximum mobility and efficiency.
Ryobi offers a diverse selection of power washers, including electric and gas-powered versions, as well as sub-varieties for commercial-grade machines.
Pressure
Being all-electric has its drawbacks. Greenworks' most powerful pressure washer can deliver 2,700 PSI of pressure at 1.2 GPM. While insufficient for a business enterprise, it is more than adequate for personal usage. Check out our comprehensive guide on the finest commercial pressure washers for more information.
Ryobi takes the lead with a 3,600-PSI model with bad-boy Honda chops pushing all that water out in terms of sheer power. Their most potent electric version, on the other hand, is limited to 2,300 PSI.
Check out this video for more comparisons:
Conclusion
When it comes to pressure washers, we can't pick a winner between Ryobi Vs Greenworks pressure washers. Ryobi can produce outstanding outcomes when one component is considered, but green efforts may produce sound output.
This is why there is no clear victor among these pressure washer manufacturers. They do, however, have their particular characteristics. Therefore, you may make a list of the characteristics you desire in a pressure washer before purchasing one. Then you may select a pressure washer based on your requirements.
Related Post