Sun Joe, a branch of Snow Joe, began its adventure in 2009 by producing high-quality power washers. Since then, it has satisfied customers' demand to be supplied with the appropriate irrigation and cleaning equipment. Sun Joe is the solution if you're worried about your budget and want the most excellent cleaning equipment for your home or workplace.
Here in this article, I will introduce the best Sun Joe pressure washer for you.
Sun Joe has several new pressure washer models available, which you can see below. This business has been on the cutting edge of pressure washer technology for a long time. If you're searching for the most incredible model money can buy, this is the business you should be working with. Take a look at the list and pay special attention to the model we've chosen to highlight.
10 Best Sun Joe Pressure Washers
| Product Images | Product Names | Editor's Rating | Price |
| --- | --- | --- | --- |
| | Sun Joe SPX3000 2030 Electric High Pressure Washer | 4.9 | |
| | Sun Joe SPX3001 2030 Electric Pressure Washer | 4.7 | |
| | Sun Joe SPX3500 2300 Brushless Induction Electric Pressure Washer | 4.9 | |
| | Sun Joe SPX1000 1450 Electric Pressure Washer | 4.9 | |
| | Sun Joe SPX3000-MAX 2800 Brushless Induction Pressure Washer | 4.8 | |
| | Sun Joe SPX4000-PRO 2030 Electric Pressure Washer | 4.9 | |
| | Sun Joe SPX2598 2000 Electric Pressure Washer | 4.7 | |
| | Sun Joe SPX3200 GO ANYWHERE Electric Pressure Washer | 4.9 | |
| | Sun Joe SPX4001 2030 Electric Pressure Washer | 4.8 | |
| | Sun Joe SPX201E 1350 Electric Pressure Washer | 4.9 | |
1. Sun Joe SPX3000 2030 Electric High Pressure Washer
Unless you have a lot of cleaning to perform in your house, the Sun Joe SPX3000 2030 is a great washer. Deciding to use this product allows you to complete activities in less time than scrubbing and washing with a standard hose. In addition, the strong 14.5 Amp 1800 Watt Motor of the SPX3000 electric pressure washer ensures that all filth, oil, and grime are removed from your property.
When it comes to the nozzles that come standard with the SPX3000, Sun Joe doesn't waste money. Unlike other washers, the SPX3000 includes five nozzles: a strong 0-degree nozzle, two mid-range 15- and 25-degree nozzles, a soft 40-degree option, and a soap nozzle. In addition, the quick-connect at the end of the wand makes attaching and removing all nozzles simple.
Pros
An 1800-watt motor provides the maximum cleaning power

A temperature tolerance up to 104 degrees Fahrenheit

Simple design makes it easy to put together and operate
Cons
For extensive cleaning chores, you're underpowered

Wand with a short length

It's difficult to tighten the hose to prevent leaks thoroughly
2. Sun Joe SPX3001 2030 Electric Pressure Washer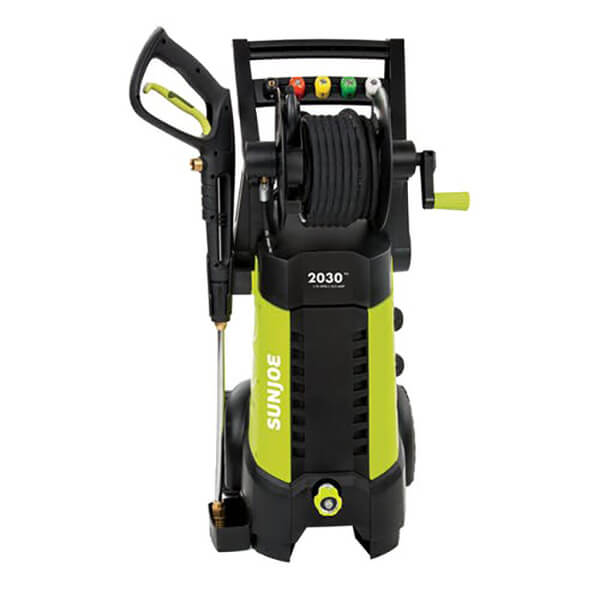 The Sun Joe SPX3001 is an excellent all-around pressure washer for mild to medium-duty cleaning, which should suffice for most homes. Unfortunately, this type is sometimes mistaken with the SPX3000. However, the SPX3001 has a hose reel that the previous model lacks and one big onboard detergent tank instead of two smaller ones.
The SPX3001 features a 1,800-Watt, 14.5-Amp motor that powers an axial water pump, similar to the other SPX versions. It, too, has a Total Stop System (TTS), which automatically shuts off the pump when the trigger is released, much like the previous versions. This conserves energy and extends the pump's life.
It also features a big onboard detergent tank, allowing the user to clean a greater area. It's also highly flexible, having 5 quick-connect spray tips that may be utilized for various cleaning. Thanks to the large two wheels, and transporting it on different surfaces isn't tricky.
Pros
The motor is powerful, and the spray does not harm all surfaces

The hose, power cable, and tips are stored onboard

A 20-foot hose, an extension wand, and a 35-foot power cable

Use little water
Cons
The hose reel cannot hold a hose longer than 20 feet

Heavy
3. Sun Joe SPX3500 2300 Brushless Induction Electric Pressure Washer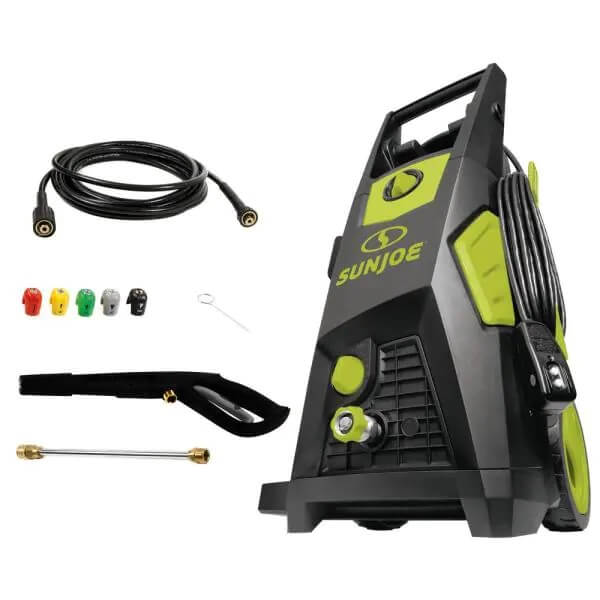 The Sun Joe SPX3500 is a new kind of electric pressure washer that is redefining the industry. This cutting-edge electric pressure washer combines high quality, style, power, durability, and beauty in a single package.
When you look at everything it has to offer, it's no surprise that consumers and critics alike have had nothing but positive things to say about it. The Sun Joe SPX3500 is a solid machine for tackling outside tasks, with a 1.2-liter detergent tank, a powerful 13-amp motor, and a maximum pressure of 2300 PSI.
Overall, this tremendous reasonable electric pressure washer can tackle many cleaning jobs, including removing dirt, mildew, oil stains, tenacious muck, difficult grease, and more. It also has an adjustable detergent dial, so you can use the correct quantity of detergent or Sun Joe Pressure Washer soap when cleaning. In addition, the gadget is easy to maneuver because it has two wheels and a comfy grip.
Pros
Small and light

Cleaning versatility with a variety of nozzles

An adjustable detergent dial

The lengthy power cord allows for a greater area to be covered
Cons
Not very powerful

Unstable
4. Sun Joe SPX1000 1450 Electric Pressure Washer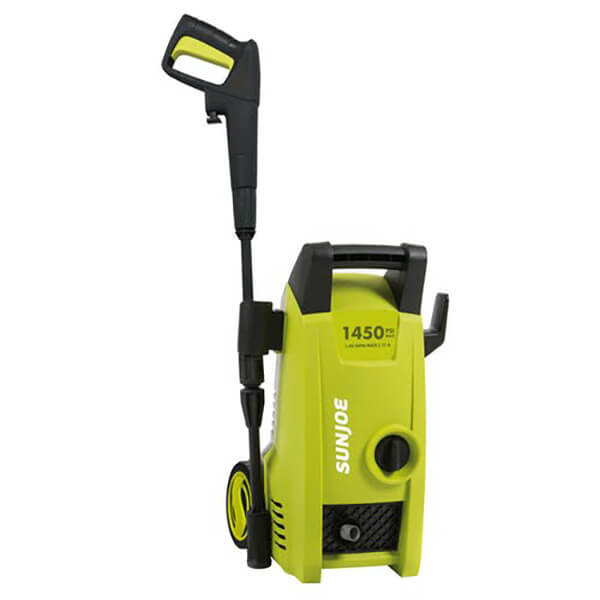 This is a small pressure washer with light to medium style. It has a maximum pressure of 1450 PSI, making it gentle on the objects you're cleaning. It is driven by an electric motor that runs at 11.5 amps and consumes only 1400 watts.
With only 1.45 GPM, it consumes extremely little water. In addition, the spray wand is entirely adjustable and equipped with a twist nozzle, allowing you to regulate the amount of water pressure sprayed effortlessly.
With a weight of only 11.7 pounds, the SPX1000 is highly portable. It has wheels to make it easier to transfer from one location to the next. In addition, it is CSA-approved, which gives you even more peace of mind about safety and usage.
It does include a built-in safety function to keep you and others around you safe.
Pros
It's light, small, and portable

A reasonable price
Cons
The detergent container must be purchased separately

Short hose
5. Sun Joe SPX3000-MAX 2800 Brushless Induction Pressure Washer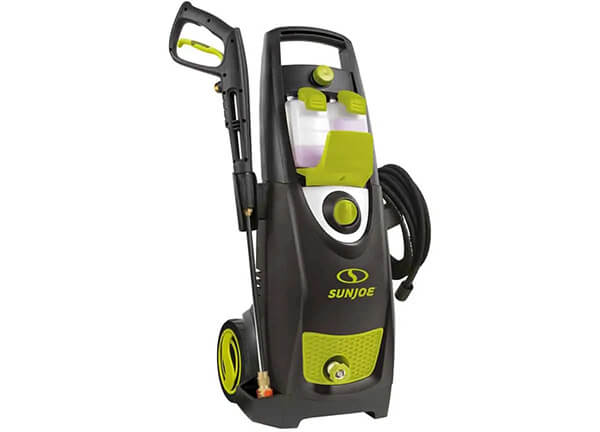 With the Sun Joe SPX3000-MAX Electric Pressure Washer, you can keep your property clean and looking beautiful all year. With its five nozzle choices and twin removable detergent tanks, you can quickly and effectively complete a range of cleaning tasks. 
With a 34-inch extension wand and an extra-long power cord, you can get into every nook and cranny of your vehicle or house. The Sun Joe SPX3000-MAX is one of the most influential electric pressure washers available, capable of removing filth and debris from any surface.
Pros
PSI is generated by the powerful motor (2800)

Setup is simple and takes little time

It has a capacity for two detergent tanks

Total stop system (TSS)

5-different fast attach nozzles
Cons
Some users reported security concern
6. Sun Joe SPX4000-PRO 2030 Electric Pressure Washer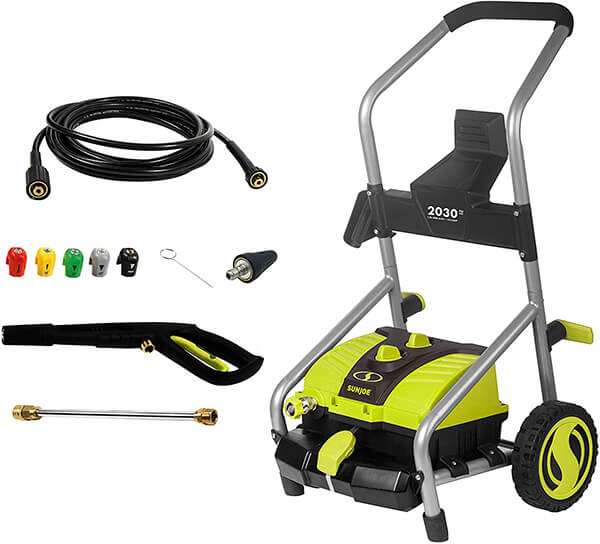 With a weight of 38.6 pounds, moving Sun Joe SPX4000-PRO about might be a little hard, but thanks to the hose, you won't have to move it too often. In addition, the electric pressure washer has tiny wheels on the bottom that make it a little simpler to move about.
A hose must be connected to this electric pressure washer spray tip to operate it. Most of the time, you'll be using Sun Joe's included twenty-foot hose.
You may achieve a water pressure of up to 2030 PSI with the help of a 14.5 amp motor. This is an extremely high level of water pressure. Moreover, you may make your pressure washing experience a bit simpler by filling the detergent tank with a suitable cleaning detergent.
It also includes an entirely stop system that shuts off the pump automatically. 
Pros
TSS with additional safety features and motor protection

Pressure Select is a technique that allows you to choose the pressure

Five different nozzle spray tips
Cons
It does not use M22 fittings of the standard size

Some users have reported leaks and improperly sealed rubber seals
7. Sun Joe SPX2598 2000 Electric Pressure Washer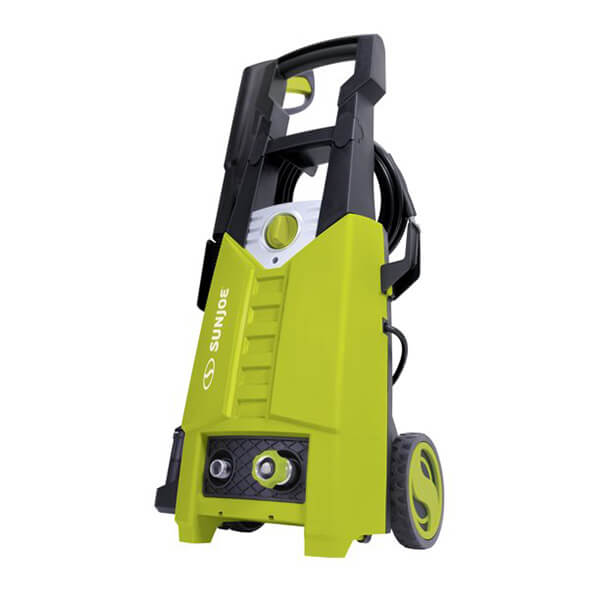 The attractive exterior shell of the Sun Joe SPX2598 Pressure Washer is the first thing you'll notice. It stands 25.6 inches tall, 12.6 inches broad, and 10.6 inches deep in terms of measurements. But don't be misled by the pressure washer's appearance. 
The Sun Joe SPX2598 Pressure Washer's beautiful two-tone plastic shell conceals a strong axial electric motor capable of delivering 1650 PSI of practical cleaning force, making it a true powerhouse. Water or any other cleaning material fed through the variable angle nozzle is pushed out at 1.8 GPM by the powerful 13 Amp motor. 
The Sun Joe SPX2598 has a 35-foot power line since the axial powerhouse needs electricity to compress water or any other cleaning substrate to 2000 PSI. Sun Joe's developers anticipated that this pressure washer might become wet during usage, so they smartly chose a GFCI-protected cable to ensure that no electrical difficulties arise.
Pros
Easy-glide wheels

Total Stop System trigger that immediately shuts off the pump

It's light enough to carry around with ease

The price is reasonable
Cons
It only features three quick-connect spray nozzles

Insufficient for heavy-duty cleaning
8. Sun Joe SPX3200 GO ANYWHERE Electric Pressure Washer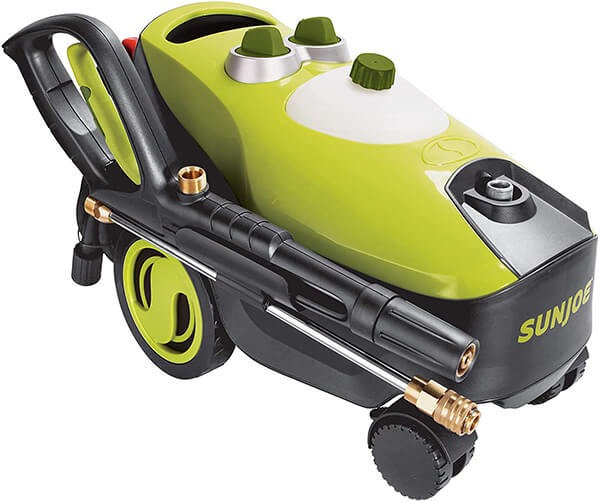 Sun Joe's new SPX3200 Electric Pressure Washer is ready to tackle any job. We're pleased to inform you that this model is one of the most powerful but subtle and adaptable on the market. It's capable of cleaning everything from your driveway to your garage floor to your kitchen walls.
Even more importantly, it is inexpensive. This current model provides just what you want at an affordable price.
The third point to consider is portability. After all, this is one of the most appealing features of the new Sun Joe SPX3200 Electric Pressure Washer. Its 360-degree wheels allow you to do the task in any location and at any time.
Pros
There are five fast connect spray tips in total

When the trigger is not physically pressed, the total stop system shuts down the pump

All current CSA requirements are met in terms of maximum ratings
Cons
If you want to avoid producing a giant mess, you'll still need to guide the washer
9. Sun Joe SPX4001 2030 Electric Pressure Washer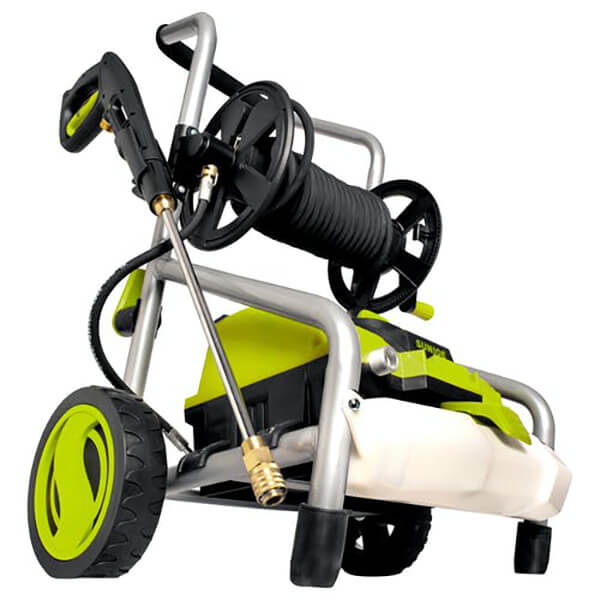 The Sun Joe SPX4001 2030 Electric Pressure Washer has superior pressure technology, one of our favorite features.
This pressure washer is suitable for small and large operations; however, you cannot change the PSI to more than 1450 PSI and less than 2030 PSI.
Another feature of the Sun Joe SPX4001 2030 Electric Pressure Washer that we appreciate is a TSS (total stop system). This extends the pump's life and allows it to function for a more extended period. In addition, the Sun Joe SPX4001 2030 Electric Pressure Washer comes with a 20-foot onboard hose reel, which is quite helpful.
Furthermore, the pressure washer's lightweight, never-flat wheels are an excellent feature. They make it simple to transport it across a variety of terrains in and around your house.
Even though the Sun Joe SPX4001 2030 Electric Pressure Washer is very hefty than its siblings, it is pretty light compared to larger and more powerful pressure washers.
Pros
5 quick-connect nozzles for versatile cleaning

With two big wheels, it's simple to maneuver

The device is lightweight and portable

By simply changing the pressure, it's ideal for a variety of activities

Use a safety lock switch
Cons
A lot of people have commented about how fragile the hose reel is

The hose reel is just 20 feet long, which is insufficient for several jobs 
10. Sun Joe SPX201E 1350 Electric Pressure Washer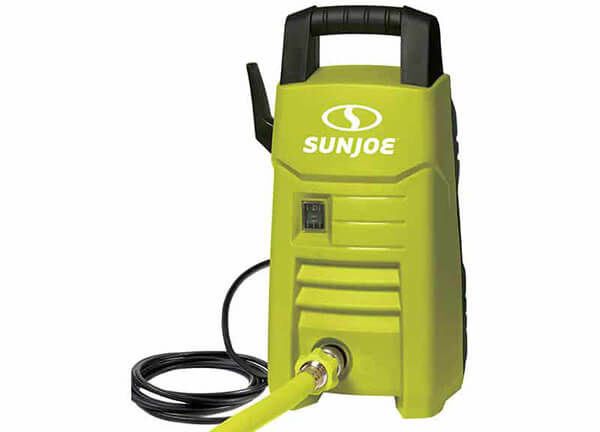 This Sun Joe model is smaller and less potent than the others. However, it has adequate power to do all light-duty cleaning jobs, and it can even be used to clean cars.
The Sun Joe SPX201E features a robust 10 Amp motor that produces up to 1350 Psi of water pressure at a flow rate of 1.45 GPM. As a result, this pressure washer has a total cleaning power of 1900 cleaning units. In addition, this machine features a TSS system, which means it uses less power and lasts longer.
A spray cannon, an extension wand, a 20-foot high-pressure hose, and a 35-foot GFCI electric wire are included with this pressure washer. The pressure washer is also reasonably priced.
On Amazon, the Sun Joe SPX201E has a 62 percent five-star rating. This pressure washer, according to customer evaluations, is ideal for minor cleaning jobs. In addition, it is practical, environmentally friendly, and simple to operate.
Pros
The structure that is both lightweight and ergonomic

Affordable and durable

There are no leakage issues

Ideal for cleaning jobs that don't need a lot of effort
Cons
What To Consider When Choosing The Best Sun Joe Pressure Washer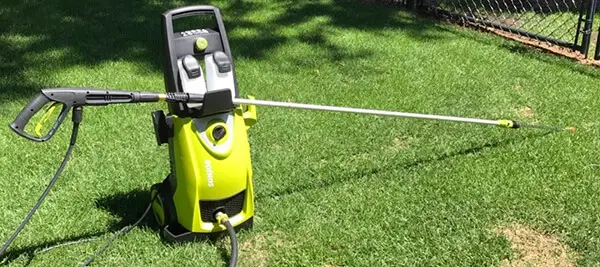 Purchasing a pressure washer may be a time-consuming and challenging job. You might wonder how this is possible. But I must warn you that it is not as simple as you may believe. There are a few factors that must be taken into account. 
Otherwise, you'll wind up making a contract that isn't lucrative, resulting in a waste of money. That is why you must acquire prior information and know-how to retain the company on your side. This is a small gesture to assist you in this situation.
Pressure
Before purchasing a pressure washer, you must first determine the size of your working area to determine the type of equipment you want. Around 1500 PSI should be the best PSI for cleaning typical dirt from your floor, car, fence, and other surfaces. 
You will need approximately 2000 PSI to remove the oil and grease stain or a bit harder dirt. Higher PSI will be required to remove the previous paint covering off any surface. Choose the items you'll clean with your pressure washer and use the highest PSI machine available for the job.
Types of Nozzles
You'll get a set of nozzles with nearly every machine. Your operating style will determine the sort of nozzle you require. For example, sun Joe pressure washers often have the most nozzles to cover most of your tasks. 0-degree, 15-degree, 25-degree, 40-degree, 60-degree, and soap applicator nozzles are among the nozzles offered. The higher the water pressure, the lower the degree. These nozzles are simple to attach to your spray gun.
Maneuverability
It's critical to consider how readily a pressure washer can be transported from one location to another before purchasing one. Sun Joe machines usually come with two wheels to make them easier to transport. You should be able to transport your gadget from one location to another easily. Choose lightweight pressure washers that consume less energy to transport.
Budget
If you have a limited income, this is an essential factor to consider. In general, gas machines are more expensive than electric equipment. Therefore, it's usually better to get an electric power washer for restricted and light-duty cleanings. Sun Joe primarily manufactures equipment for consumers with minimal financial resources.
Check out this video for more information about Sun Joe pressure washers:
Conclusion
In our comprehensive Sun Joe pressure washer review, we have covered all of the product specifications. You can simply choose your best Sun Joe pressure washer with this information. It all boils down to this: if you like to work around the house using non-gasoline-powered, lightweight, and ecologically friendly equipment, this is the pressure washer for you.
Further Reading