Honda isn't the only engine manufacturer whose products are used by pressure washer manufacturers.
Kohler is the industry's second-largest competitor in pressure washing. Although Honda has a five-fold presence, which can also be mentioned for their manufacturing sales in general, Kohler offers an equally broad product range with identical characteristics and alternatives for any job situation.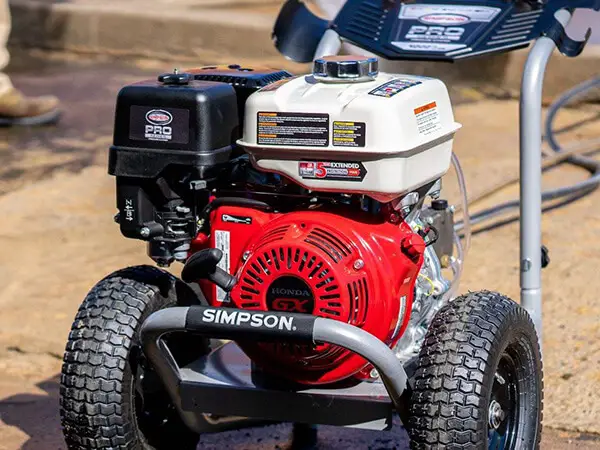 A Kohler vs Honda engine pressure washer is always in fierce competition. As a result, the consumer is frequently perplexed as to which item is the best to purchase, and this comparison article is one of the solutions to this confusion.
Let's start with a quick overview of both brands.
Overview About Kohler Vs Honda Engine Pressure Washer
Kohler Engine Pressure Washer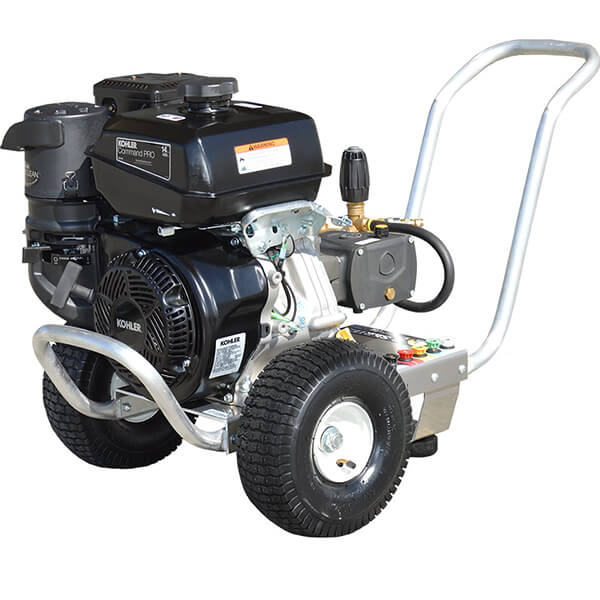 Kohler is a well-known engine manufacturer. Kohler manufactures a variety of engines, including pressure washer engines, which are almost always powered by a gasoline engine.
Kohler is known for its K series engines, which were first introduced in 1920. Kohler engines are recognized for producing strong engines that endure a long time and provide excellent performance.
Most pressure washer manufacturers use a Kohler gasoline pressure washer engine, including Simpson, Dewalt, Karcher, Craftsman, and others. The most significant part is that the pressure washer with a Kohler engine has excellent customer reviews and requires no maintenance.
Check out this review for a pressure washer with a Kohler engine:
Honda Engine Pressure Washer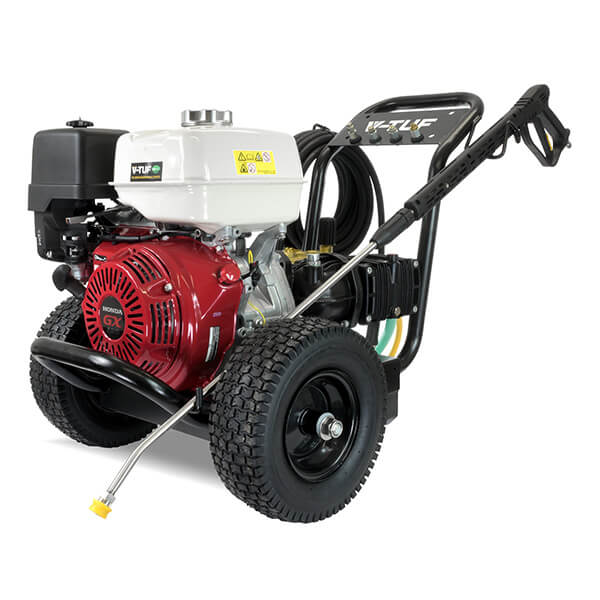 Honda has come a long way since its days of providing Toyota with piston rings. Honda Motor Company was named the 23rd most valuable brand in the world by Forbes in 2016, with a brand value of $25.2 billion.
As a result, 51 power equipment manufacturers use Honda engines to power their machines. In total, 16 pressure washer manufacturers use Honda's small engines to power their machines.
In terms of performance, efficiency, and dependability, Honda engines are better. In addition, they're simple to operate and don't make a lot of noise.
The cheapest Honda pressure washer costs $329 and is powered by a GCV160 engine, while the most costly model costs over $10,000 and is powered by an OHV V-Twin engine. With that stated, a Honda-powered pressure washer costs approximately $400-500 on average.
So, if you need a pressure washing machine for primary cleaning duties around the house or at the workplace, picking one of theirs ensures you won't be disappointed.
Some complaints about the starting procedure of Honda engine pressure washer, but this video will help you:
4 Best Kohler Vs Honda Pressure Washer
1. Simpson MSH3125-S MegaShot Honda GC190 Engine Gas Pressure Washer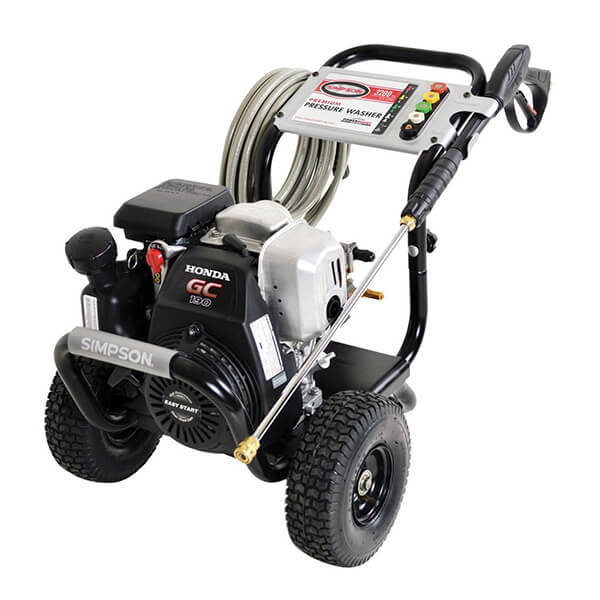 Cleaning decks, patios, outdoor furniture, house siding, and preparing home exteriors for painting are all possible with this pressure washer. It also cleans your driveway quickly when paired with Simpson's 15-inch surface cleaner. The design makes it ideal for domestic usage, with the Honda engine providing a significant upgrade over other pressure washers in a similar price range.
This Simpson pressure washer has a height of 24 inches and a width of 21 inches. With its lightweight design and 10-inch pneumatic tires, this vehicle easily navigates most terrains. The pressure washer can go up to 3400 or 3500 PSI and play the numbers game, but the 2.5 GPM helped clean rapidly. 
Pros
It is simple to move

Powerful Honda GC190 engine 

OEM axial cam pump that requires no maintenance

Compact and lightweight design

Setup at ease
Cons
For some jobs, the hose is a little short.
2. Simpson Cleaning MSH3125 MegaShot Gas Pressure Washer Powered by Honda GC190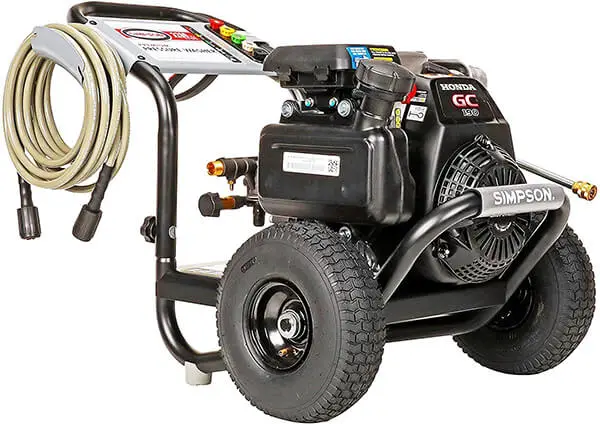 This Simpson Honda is explicitly developed for the home and shop, providing maximum performance with little investment. This pressure washer is simple to start and operate for washing decks, patios, house siding, outdoor furniture, and preparing home exteriors for painting. It has a compact design that is light and tiny enough to be carried by one person.
The Simpson MegaShot is powered by a superior Honda OHC engine, made with high-quality components, intended for optimal performance in the most challenging situations, and recognized for being dependably simple to start. In addition, a welded steel frame body and large pneumatic wheels give excellent mobility on virtually any terrain. 
Pros
Come with a quality Honda engine

Simple to start and use

Light and strong machine

Steel spray wand and 5 stainless steel fast attach nozzle tips 

Premium pneumatic tires with a diameter of 10 inches for easy mobility

Long-lasting and dependable
Cons:
The rubber holder vibrates with nozzles

Some customers complain that the hose is too short and can tangle

There is no soap tank onboard
3. SIMPSON Cleaning MS60763-S MegaShot Gas Pressure Washer Powered by Kohler RH265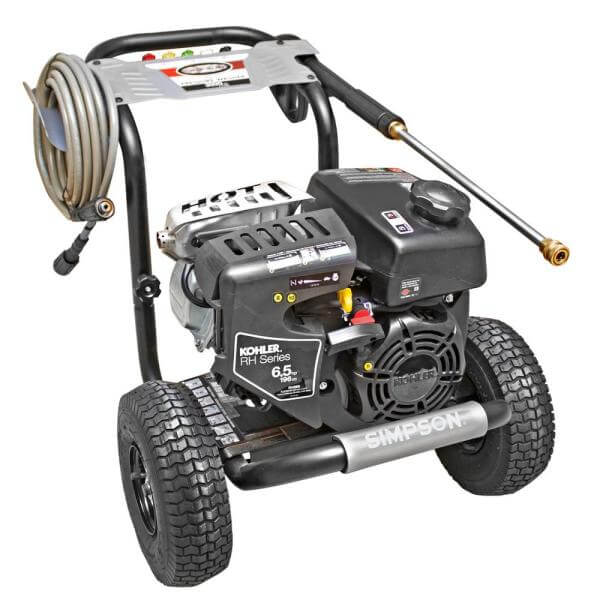 The Simpson MS60763-S pressure washer is gas-powered and has a pressure of 3000 PSI and a flow rate of 2.4 GPM. Five nozzle tips, smooth pneumatic tires, and a replacement cleaning tip are included in the package. Overall, it weighs about 57 pounds. The stainless steel frame provides long-term durability, while the 122-inch never-flat smooth tires assure mobility. 
The pressure washer comes with a pro-style spray wand that connects to five different and unique nozzle tips suited for different applications. A specific nozzle is required for specific tasks. A lighter job, for example, may have a different nozzle tip, while a rough and rugged surface area will necessitate a different vent.
Pros
A potent engine

5 nozzle tips

Long-lasting durability

Long-term warranty with varying levels of coverage for different elements of the product
Cons
Receive defective or missing parts

Commercial usage is not guaranteed
4. SIMPSON 61085 MegaShot Kohler SH265 Gas Pressure Washer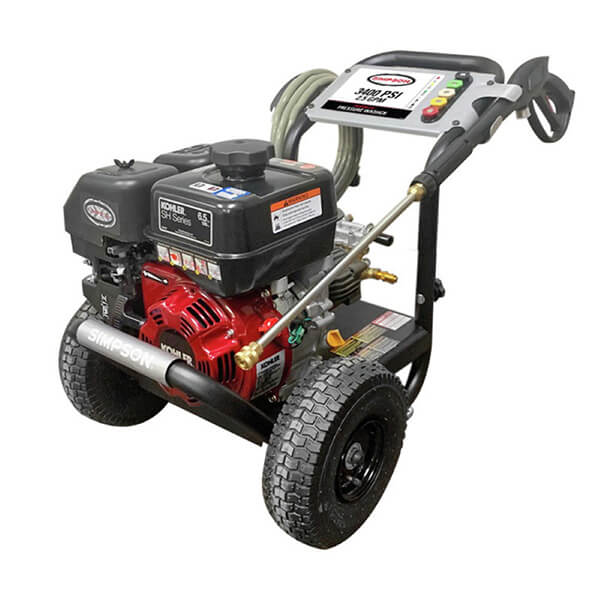 The MegaShot MS61084-S (61085 if you're buying online) uses Kohler for its powertrain, combining its SH265 engine with an OEM Technologies axial cam pump to deliver 3400 PSI and 2.5 GPM for the premium residential range. 
The Simpson PowerShot PS61044 3400 PSI pressure washer is an ideal choice for households who take pressure cleaning seriously and professionals who desire a budget-friendly device for moderate to medium-duty applications.
It's worth noting that this model goes from a 1/4-inch to a 5/16-inch hose. Although it is less expensive than our prior MegaShot suggestion, it does not come with a surface cleaner.
Pros
The engine is a Kohler SH265

The compact frame provides a minimal storage footprint

Chemical infusion after the pump

For usage and maintenance, there is easy access to the engine and pump

Excellent value for money
Cons
For tall guys, the handle location is a little low

The axial cam pump limits professional use
Kohler Vs Honda Pressure Washer Engine: Which Is The Winner?
Both Honda and Kohler have an extensive support network in the United States.
Kohler has a reputation for starting better in cold weather than Honda. There are ten more who say Honda does for every ten individuals who believe Kohler starts better in cold weather. And no one can back up their claims with facts. Both of these engines are not intended for commercial usage, as previously stated.
Kohler wins this one by a hair since it has more OOMPH, is less expensive, and offers comparable support to Honda in most areas. However, the Honda GC190 is found in more than ten different models (compared to only two with the Kohler). Thus Honda has the advantage when it comes to power washers.
Compared to Kohler pressure washers, Honda engine pressure washers provide higher PSI, flow rate, and performance.
You can receive the best gas pressure compatible with the best engine in the world, the Honda. The nice part is that the pressure washer will perform similarly whether you get a Kohler or a Honda engine.
Honda won the race between Honda and Kohler engine pressure washers because the Honda engine pressure washer outperformed Kohler by five times.
Because the Honda engine pressure washer has a higher fuel efficiency, I recommend purchasing a pressure washer with a Honda engine.
Conclusion
So now you know the winner of the Kohler Vs Honda engine pressure washer race, you can decide on your own. Remember that the best pressure washer is the one suitable for your needs regarding performance, durability, accessories, and design. I hope this list helps you, and stay tuned for more articles to come!
Related Post