An electric pressure washer with a snow foam cannon is an excellent tool for washing your car safely.
The amount of pressure required for cleaning a car is not very high, but if you want to use it to clean your driveway or deck, you'll need a more powerful washer.
Attaching a snow foam lance to your automobile will permit you to make a thick foam that adheres to the vehicle and removes road filth and oil from every inch. This foam is essential for safeguarding your automobile while it is being washed.
The type of machines I offer below may be used for everything around the house and produce thick snow foam, ideal for cars. Choose your best electric pressure washer for foam cannon from the list!
What Is A Foam Cannon?
A foam cannon for a pressure washer is just a specially built canister with nozzles on the top that allow you to connect it to a pressure washer and an extension wand. The foam cannon combines soap, water, and air with the aid of pressured water from the pressure washer, resulting in thick suds that adhere to the surface when they drop on your car.
A vehicle washing foam cannon is a pretty simple piece of equipment. Simply remove the canister, pour soap and water into it, screw the canister back into the brass connection, and swirl the soap and water together to mix it (do not forcefully shake it). After that, connect your pressure washer to the quarter-inch fast connection plug on the foam cannon, set the soap control and nozzle control knobs, and foam your car.
Foam cannons are available in various brands, some of which are inexpensive and others which are more expensive. Is the effectiveness of a foam cannon determined by its price? Not at all. A $10 foam cannon is equally as good as a $90 foam cannon at producing foam. 
The pricing difference is most noticeable in the building quality. More expensive foam cannons include thicker brass connections and better-built soap and nozzle control knobs, so they last longer.
This is how a foam cannon is set up. The soap control knob regulates how much soapy water is sucked through the suction tube and combined with the pressure washer's water. By shifting it to one side, less soap is sucked in, resulting in a more watery discharge. As you might expect, adjusting it in the opposite direction draws up more soap, resulting in a thicker, foamier output.
The foam cannon delivers a dense stream of foam to a limited surface area when the nozzle control knob is at its most open position. However, tightening the nozzle control knob tightens the exit point and allows the foam to spread out and cover a greater surface area as it sprays.
Check out this video to know more about foam cannon:
10 Best Electric Pressure Washers For Foam Cannon
| Product Images | Product Names | Editor's Rating | Price |
| --- | --- | --- | --- |
| | Sun Joe SPX3000 2030 Electric High Pressure Washer | 4.9 | |
| | Stanley SLP2050 2-In-1 Electric Pressure Washer | 4.8 | |
| | Sun Joe SPX3001 2030 Electric Pressure Washer | 4.7 | |
| | AR Blue Clean AR2N1 Electric Pressure Washer | 4.9 | |
| | Karcher K1700 Electric Power Pressure Washer | 4.7 | |
| | Stanley SHP2150 Electric Pressure Washer | 4.9 | |
| | Karcher K5 Premium Electric Power Pressure Washer | 4.8 | |
| | Adam's Electric Pressure Washer 2.0 | 4.9 | |
| | Sun Joe SPX4001 2030 Electric Pressure Washer | 4.7 | |
| | Suyncll Electric Pressure Washer 1.9GPM | 4.9 | |
1. Sun Joe SPX3000 2030 Electric High Pressure Washer
An electric pressure washer, such as the Sun Joe SPX3000, is a good option when you don't require industrial-strength cleaning. This compact, cost-effective power washer is harsh on grime yet gentle on your budget and back.
The detergent tanks are detachable, which prevents spillage and allows emptying them easier. For easy multi-surface cleaning, you can also fill them with two different cleaning solutions. With the detergent selection dial, you can switch between tanks while also controlling the soap concentration.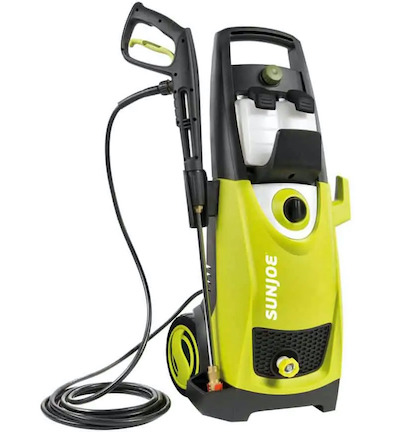 The TSS (total stop system) immediately switches off the pump when the trigger isn't pressed. This equipment can reach pretty far outside thanks to its 35-foot power wire. The hose's additional 20 feet, along with the 34-inch spray wand, stretches your reach even farther.
Pros
Quieter

Cheaper

Smaller and more lightweight

Storage is more convenient.

It can be utilized both inside and out (depends on cleaning the surface)
Cons
If you use this system for an extended period, it may develop leaks. The threads of aluminum hose connectors can also be stripped.

The unit's adaptor is made of plastic.

The fits aren't universal, according to customers.
2. Stanley SLP2050 2-In-1 Electric Pressure Washer
If you've been looking for a great electric pressure washer for foam cannon, rejoice. After you've discovered the Stanley SLP2050, your fight is over. Through its significant cleaning dynamism, the gadget is a performer and can fight all the grimes and filth.
The lightweight and mobility of the new Stanley SLP2050 Electric Pressure Washer are some of its best features. This machine is 36 pounds in total, making it relatively light and simple to transport if necessary. It should be noted, however, that it also includes a cart. This cart will come in handy if you need to carry the unit to a different section of your house.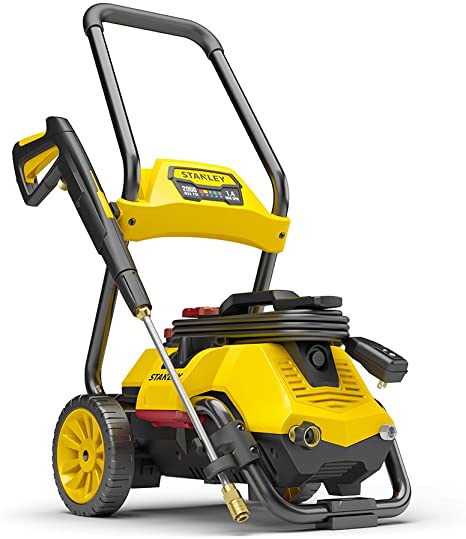 You can use the machine to attack just about any surface, thanks to the 2050 PSI indicated before. One of the highest compliments we can bestow on this machine is its exceptional capacity to conserve water.
Pros
There's a customized mobile cart included.

You may save up to 80% more water while simultaneously getting 40% greater pressure because of the energy-efficient design.

A leak-proof connection is ensured by the brass garden hose connector and 22mm connectors.

Adaptability
Cons
This machine is expensive 

Because the unit is electric yet corded, you'll need to buy an additional long extension cable (beyond the 35-foot wire that comes with it) if you want to use it over a longer distance.
3. Sun Joe SPX3001 2030 Electric Pressure Washer
The Sun Joe SPX3001 pressure washer features a strong motor that makes cleaning a snap. This is due to the high-pressure system's ability to release up to 1.76 gallons per minute at a water pressure of 2030 PSI, ensuring maximum cleaning force.
This electric pressure washer has a high-capacity detergent tank, so you can keep washing without replacing the detergent regularly.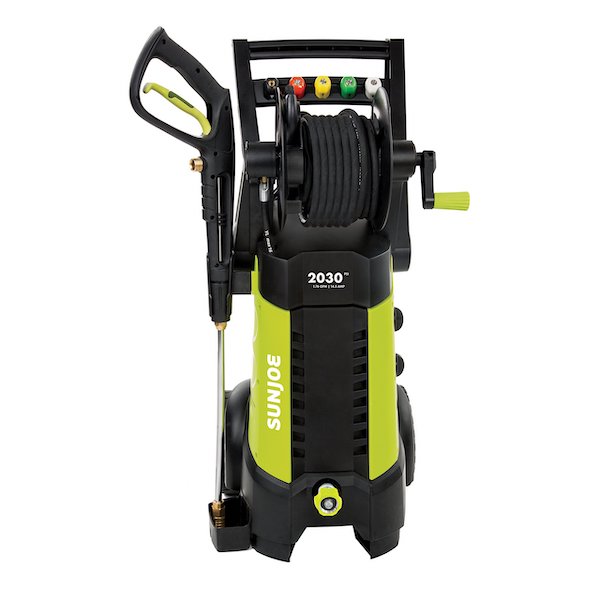 The Total Stop System on the Sun Joe SPX3001 2030 psi is a conservative feature. It comes with five removable nozzles. In addition, the washer features built-in storage, making it easy for the owner to keep it.
Pros
The price is reasonable.

It weighs 32 pounds and has a slim form that fits nicely in small places and indoor locations.

It also doesn't take up a lot of storage space.
Cons
You may have to bend to move this machine if you're tall.

The guarantee covers only new equipment and typical, domestic use.

For some applications, the hose may be too short.

Because the hose connectors are plastic, overtightening them may cause them to peel.

The detergent doesn't flow well for some users.
4. AR Blue Clean AR2N1 Electric Pressure Washer
With 2050 PSI, the AR2N1 is the second most potent variant of AR Blue. The fact that it's a two-in-one machine is one of my favorite features of this model. What exactly does that imply? You may put it on the cart to make it easier to move. You may also take it out of the cart and carry it about with you while cleaning.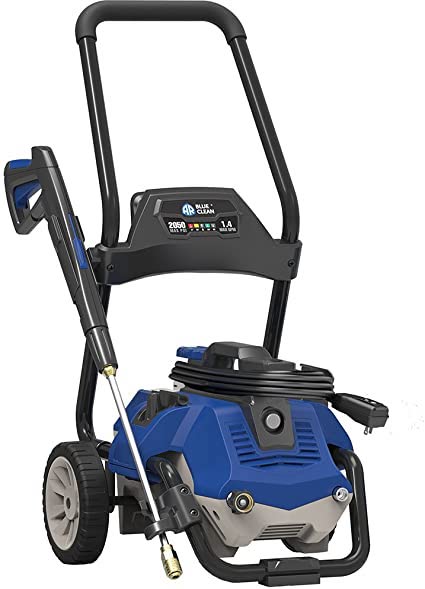 This type is ideal for cleaning very contaminated areas and basic household cleaning tasks, such as patios, driveways, and even your home's walls.
It's still lightweight and small despite its tremendous powers.
It's not as expensive as the MAXX2200 and is a little simpler to transport while still providing adequate pressure. Therefore I recommend it. 
Pros
It has a cold water spray and weighs 18.2 pounds.

A detergent tank, water filter, high-pressure hose, and detergent injector kit are all included with the device.
Cons
Some customers believe it is only suitable for light cleaning jobs because it cannot clean highly filthy areas.
5. Karcher K1700 Electric Power Pressure Washer
If you're seeking the best electric pressure washer for both vehicle detailing and deck cleaning, go no further than the Karcher KK1700.
As a result, you'll need the proper equipment to assist you in thoroughly cleaning your vehicle. The tool is also multipurpose, as it can be used for automobile detailing as well as decking.
Thanks to its TruPressure technology, this powerful cleaning machine delivers a whopping 1700 PSI. However, it only uses 1.2 GPM, so you won't have to worry about your water bill going up. It also includes a simple on/off button to operate with your feet to guarantee that you do not wastewater.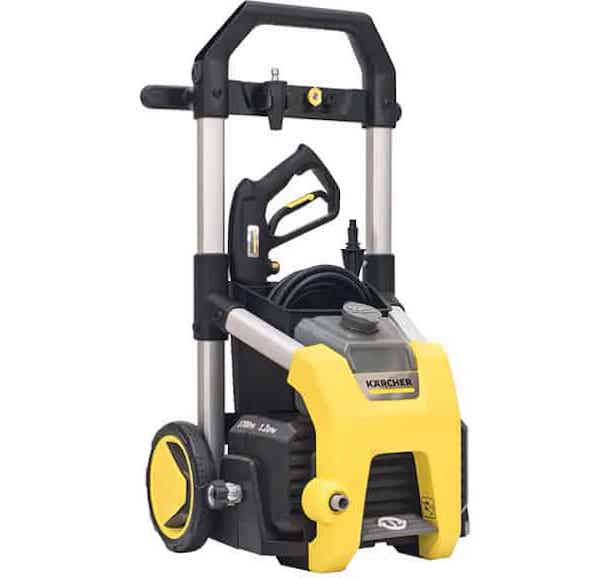 This pressure washer includes a vast, detachable container to store all of your accessories and personal stuff. It also contains a 0.5-gallon detachable detergent and soap tank for convenient cleaning and usage.
The fact that it features a heavy-duty frame and all-metal hose connections will further impress you. In addition, because they are huge, no-flat wheels, the wheels are also ideal for durability.
Cons
This pressure washer has a lot of reach with a 20-foot power line and a 35-foot power cord.

When it comes to transporting this equipment, it is relatively light.

The K1700 is a heavy-duty cleaning machine.
Pros
The hose connection may leak water.

If you don't have a lot of water pressure at home, this machine might not be powerful enough for you.
6. Stanley SHP2150 Electric Pressure Washer
The Stanley SHP2150 is a power washer with total cleaning power of 3010 and a force of 2150 PSI at 1.4 GPM. This is a low- to medium-duty power washer that will meet the demands of most customers. The unit is equipped with a 13-amp electric motor that is housed in a stylish, modern-looking casing.
To make it easier to maneuver, the entire housing of this popular electric pressure washer is mounted on two rubberized plastic wheels, and it weighs a total of 26 pounds, which is considered light in the power tool category.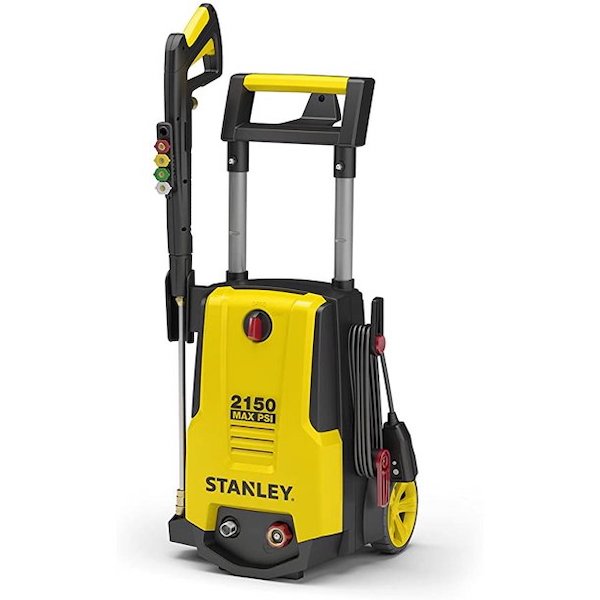 A 25-foot long high-pressure hose and a 35-foot long electric chord add to the portability of this Stanley electric pressure washer, allowing you to reach even the most difficult of areas. In addition, because of its modest weight, you can quickly grasp the washer by the handle and carry it about.
Pros
Extremely lightweight and small

Work with standard garden hose sizes. 

Come with a maintenance package
Cons
It does not feature a pressure control mechanism
7. Karcher K5 Premium Electric Power Pressure Washer
With less than 2,000 PSI, the Karcher K5 will clean things faster. In addition, this pressure washer has a Dirtblaster spray wand for the toughest chores you'll ever throw at it.
The other wand is a Vario Power Spray wand, which allows you to modify the spray setting quickly depending on the work at hand.
It just uses 1.4 GPM. It still has up to 40 times the cleaning power of a conventional garden hose, though.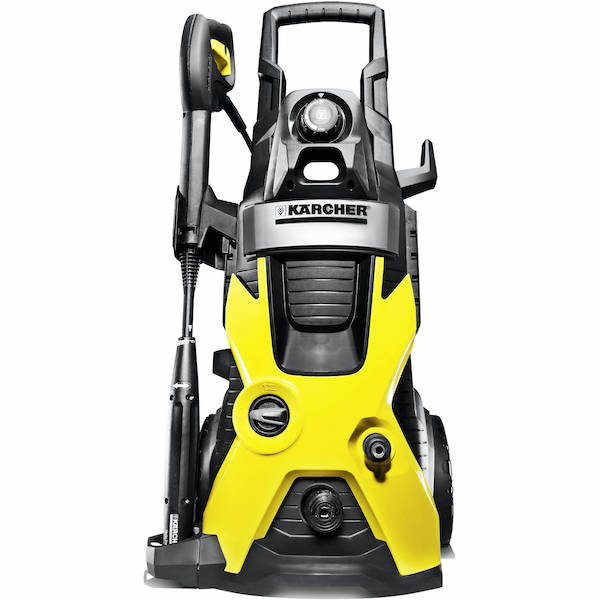 The N-COR pump is long-lasting and corrosion-resistant. You will never have to do any maintenance on it. On-board features include a hose reel, two spray nozzles, and a detergent tank.
Pros
Effective cleaning

Multi-jet lance with incredible versatility

Controls that are both simple and effective
Cons
Some innovative features aren't always helpful.

Expensive and heavy
8. Adam's Electric Pressure Washer 2.0
When it comes to quality and finish, the Adams Polishes Pressure Washer 2.0 is a terrific pressure washer alternative. Adams took the effort to design a vehicle detailing pressure washer that is tailored to the automotive sector.
The hose is a 40-foot steel braided hose, which is longer and of higher quality than any of the other hoses we've looked at thus far. The handle may be extended, including a balancing bar to protect it from tipping over while in use.
The wash gun has a short nose and is currently the best stock gun and wand combo available.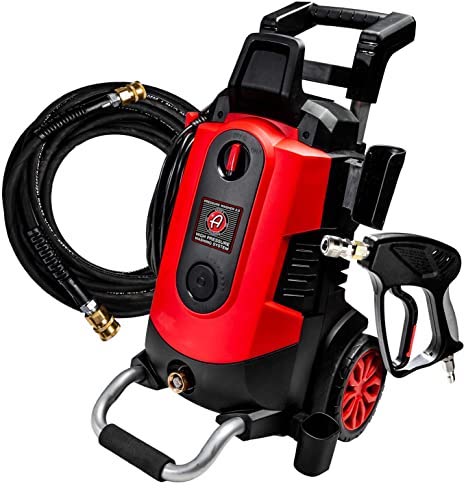 The Adams Pressure Washer 2.0 has a flow rate of 1.4 GPM and a pressure of 2000 PSI. You receive a 40-foot hose and a 35-foot power cord, which is the longest so far.
Pros
Effective cleaning

Robust 

Great accessories 
Cons
9. Sun Joe SPX4001 2030 Electric Pressure Washer
The Sun Joe SPX4001 Electric Pressure Washer is a great electric pressure washer that makes pressure cleaning simple and effective. It has a fantastic design and a variety of essential functions.
You may choose between two water pressure settings while using this electric pressure washer. However, you'll use 1,450 PSI of water pressure for most pressure washing jobs.
Water pours out of the water pressure at a rate of 1.76 GPM, regardless of the specific water pressure level you employ.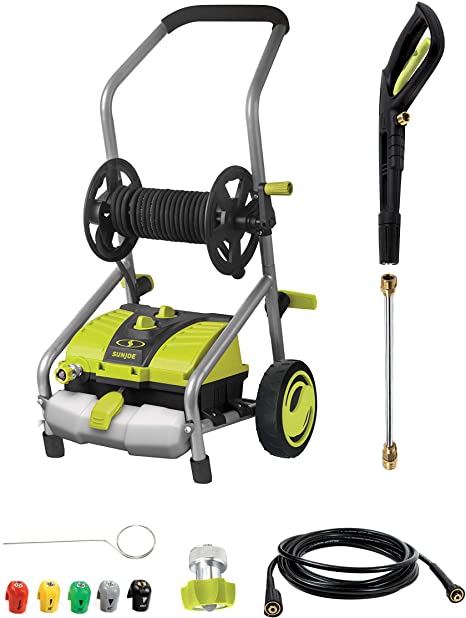 It has a simple and easy-to-use design, powerful pressure cleaning capabilities, spray tips for diverse pressure washing, and it's also quite economical.
Pros
Sun Joe's SPX4001 electric pressure washer is one of the brand's most influential models.

Along with the washer, there is a comprehensive stop system.

Cleaning becomes more efficient and comfortable with these five fast nozzle tips.
Cons
A few consumers have complained that the hose that comes with the washer is insufficient for specific cleaning tasks.
10. Suyncll Electric Pressure Washer 1.9GPM
On some of your most challenging jobs, this Suyncll pressure washer will blast away the filth. With 15 amps, 3800 PSI, and 2.8 GPM, this equipment may be used in place of a gas-powered pressure washer– without the smell or noise.
The soap tank of this Suyncll pressure washer is intended to emit just the correct quantity of suds, so no soap is wasted, and your pavement doesn't bubble up with foam.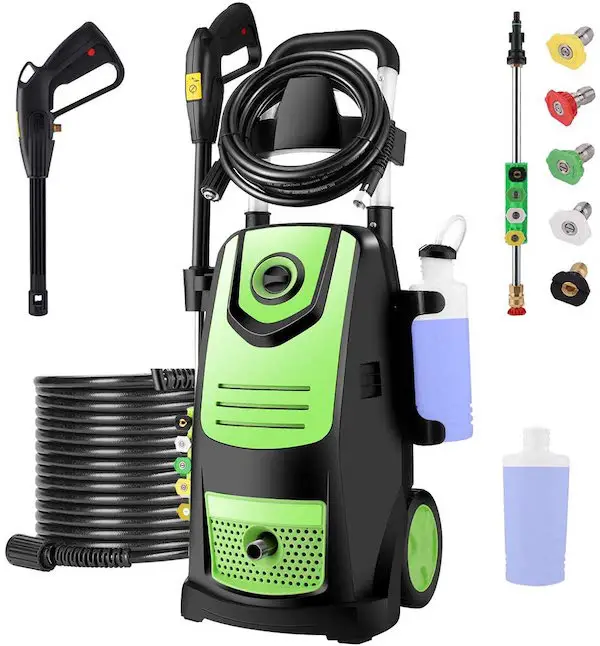 When the pump trigger is not pressed, the pressure washer automatically shuts off, conserving water, energy, and pump life.
Suyncll makes reaching the tightest horizontal and vertical spaces a piece of cake. It includes a 20-foot high-pressure hose with inline GFCI and a 35-foot power wire with inline GFCI (a safety feature not so familiar with electric pressure washers that prevent electric leakage). The Total Stop System (TSS) is another significant safety feature of this device, which makes the unit shut down automatically when the trigger is not pressed and extends its life.
Pros
Extremely strong and adaptable

It may be used for a variety of purposes.

Appealing design

It is incredibly light, portable, and small.

It will readily fit into any location.

Longer motor life

Simple to assemble

Simple to Use

Quieter than a pressure washer with a gas engine.
Cons
Significant surface expenses are challenging to clean.

The handle is a tad too delicate.
Conclusion
Here we are with a total of 10 best electric pressure washers for foam cannon in 2021! You can't say that you missed a suitable option from our list. We have tried our best to come up with easy-to-understand reviews, touching on the product's specifications, features, pros, cons, and final verdict.
To save you from challenges you could encounter when doing your research, we have also provided you with a reliable buyers guide. So consider those factors whenever you want to buy the best electric pressure washer for foam cannon.
Further Reading: