Many love spending time together by the family pool all year long. It's the ideal location for entertaining, unwinding, grilling, or simply cooling down on a hot day. If you believe that this would be a wonderful location for a retreat, you are not alone. 
However, pool decks are the ideal place for mold, algae, fungus, and their spores to develop and spread, especially if you have neglected the place for some time. Now, the question is, how to master pressure washing pool deck even when you have absolutely no experience?
Easy, we will show you in just 5 minutes of reading! Learn more below.
Why Should You Pressure Wash Your Pool Deck?
Pool deck cleaning and maintenance go much further than just making it look good. We like to think of pool decks like cars; to keep their value and keep them running for a long time, you need to take care of both the aesthetic and mechanical/structural health over time. Below are our top reasons why pool deck cleaning is a must.
Safety 
Algae and mold buildup on flat surfaces can make them as slick as ice. Having someone get hurt on your property can create a series of misfortunes when it comes to health, legal, and financial problems. You may have to be extra careful with commercial pool patios, where you can have hundreds, if not thousands, of people walking on them daily.
Cleaning the pool deck can also improve air quality since mold is unhealthy. Optimal health for yourself and others is ensured by removing it from your pool.
Aesthetics
In terms of aesthetic attractiveness, a clean house is preferable to a dirty one. We wholeheartedly concur that the same is true with pool decks. Keeping commercial pool decks, such as those at hotels or resorts, in good condition results in happier customers and increased property value.
Maintenance
The surface of paver pool patios may look younger for a longer period of time if you clean and seal them regularly. The pavers expand and contract as a result of the continuous heating and cooling process, which allows moisture to penetrate the porous surface of the pavers. They could eventually crack and require hundreds, or even thousands, of dollars in repairs.
Cleanliness 
You can prevent stains from settling into the pavers and leaving permanent stains more effectively by cleaning your pool patio as soon as spills of food and drink, sunscreen, tanning oil, and other man-made impurities appear. Regular cleaning with a degreaser prevents foot traffic stains from accumulating, especially on busy commercial pool decks.
How To Do Pressure Washing Pool Deck
Be aware that depending on the materials and state of the deck, you may need to modify your pool deck cleaning procedures. 
For example, older wood may require cautious handling to prevent aggravating minor fractures, splits, and other damage. On the other hand, cracked concrete can require extra cleaning to get rid of the dirt and debris trapped in it. 
Step 1: Remove loose debris
Make sure the pool deck at your house has been fully cleared before cleaning it. As much dirt, dust, and other debris as possible needs to be removed with an outside broom with firm bristles. This initial step makes sure that debris won't weaken your cleaning agents or abrade the materials of your pool deck while you clean it.
Step 2: Eliminate mold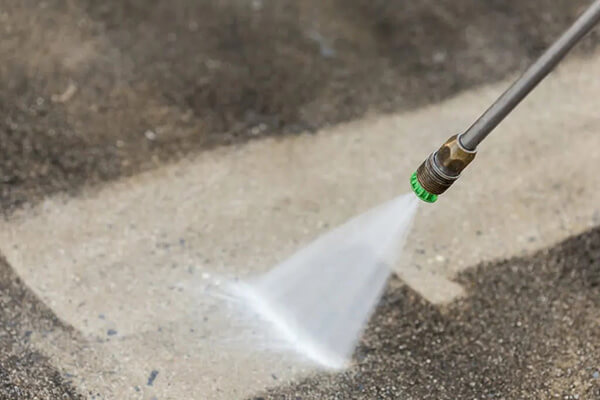 Mold and mildew love to grow on wooden decks! Use a spray bottle or garden hose attachment to apply a solution of one cup of white vinegar to one gallon of water to destroy the pollutants.
To eliminate the mold and mildew and release their roots and spores, you might need to let the vinegar solution soak for a few minutes. Then, remove the growth by using a scrub brush with soft bristles.
Step 3: Apply detergent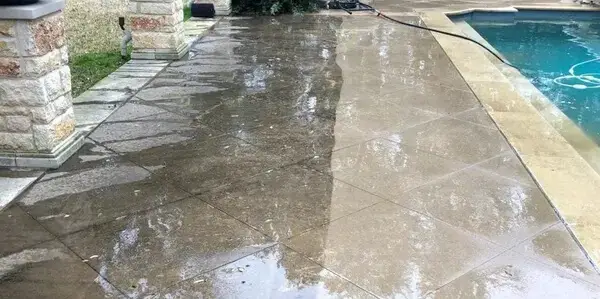 Use oxygenated bleach rather than chlorine bleach on concrete, stone, and brick, as instructed. In a gallon of warm water, add a cup. Add a little amount of dish soap to the pool deck if it's very grimy; make sure it's dish soap, not dishwashing detergent, and pick a type without additional skin creams.
Spread this mixture evenly on the deck after completely mixing it. If necessary, use an extra amount of solution to cover the whole deck.
Allow the solution to settle for a few minutes so that it may penetrate the pits and pores of the concrete surfaces and dissolve the heavy dirt and muck. After that, clean the deck thoroughly with an outside scrub brush.
Step 4: Pressure wash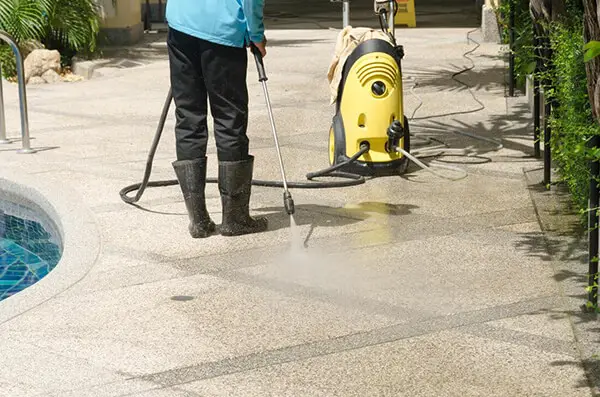 After scrubbing, rinse with a pressure washer using low water pressure to remove the cleaning agent. Make sure to rinse it away from your gorgeous lawn and toward your driveway or path.
Step 5: Clean stubborn stains and seal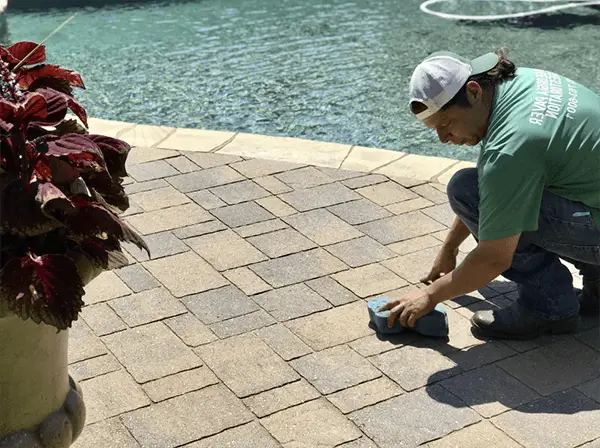 Use muriatic acid, which is available at many home improvement and janitorial supply stores, if any rust spots are still visible. When handling muriatic acid, you should put on thick rubber gloves, a breathing device, and protective eyewear, and make sure you dilute it in accordance with the instructions on the container.
Choose a commercial-grade degreaser for oil stains; you may get these products at hardware or janitorial supply stores. Follow the directions on the packaging since some products require dilution while others may be used straight on the stain. If necessary, scrub the stain with a stiff-bristled brush before rinsing.
If your deck is very unclean or has tenacious stains, check your neighborhood home improvement store for cleaning products made exclusively for that material.
Watch this video for a better illustration if you have a concrete pool deck to pressure wash:
How To Maintain a Pool Deck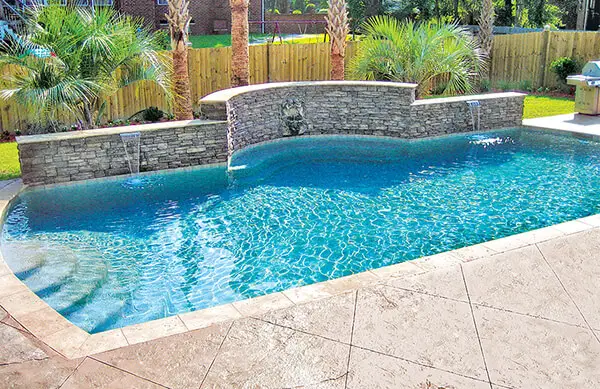 No matter what you do to safeguard a pool deck, it will still require professional cleaning on a regular basis. However, there are several things you can do to keep the deck as clean as possible and cut down on cleaning that isn't necessary:
Instead of a chain link or mesh fence, think about installing a glass or other solid panel fence around the pool deck. The deck of the pool is protected from wind-borne dirt, sand, grit, and other debris by a solid panel fence.

Avoid using metal patio furniture to reduce the possibility of rust spots.

Regularly seal pool decks made of concrete, stone, or wood.

Be careful when eating and drinking coffee, tea, and other liquids that might leave stains if spilled. Consider purchasing a dining table or side tables for the deck area when coming up with pool deck ideas, and make sure that your family and visitors dine and drink there.

Removing sand, silt, debris, and other leftovers using a garden hose can prevent as much dirt from being crushed into the concrete as compared to other methods.
Conclusion
Waiting to clean your home's exterior until you see a buildup of filth and grit might harm the structure's surface. Even though it appears clean, a property normally needs power washing once a year to keep it in excellent shape.
Now that you know how professionals are pressure washing pool deck, you may want to try it for yourself as soon as possible. Schedule your next cleaning and get to work!
Related Post